VaultFlexTM Outdoor Battery Cabinet
VaultFlexTM enclosures provide a secure thermally managed environment for backup battery systems for telecommunications and cable applications.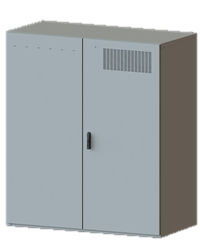 Model: VFX42-6534-DB
Dimension: 75"H x 65"W x 34"D
VaultFlex Outdoor Battery Cabinet Description
VaultFlex enclosures are offered in a range of sizes to accommodate diverse battery back-up requirements. Constructed of corrosion-resistant aluminum with steel racks and rails, they support a wide range of EnerSys battery chemistries, including PowerSafe® SBS, PowerSafe V Front Terminal, PowerSafe OPzV or PowerSafe DDm batteries.
VaultFlex Outdoor Battery Cabinet Features
75"H x 65"W x 34"D
Battery rack options accommodate EnerSys® PowerSafe® OPzV, DDm, V Front Terminal or SBS batteries
Pad mount
1 year warranty
Meets standards:

UL/CSA/EN 60950-22
Earthquake Zone 4 criteria per Telecordia GR-63
EMC criteria per EN 61000, FCC,ICES
CE Mark
RoHS compliant
VaultFlex Outdoor Battery Cabinet Options
Air Conditioner or Free Cooling Climate Control Unit
Heater
Zone 4 or Zone 0 compliant battery rack
Climate unit, door, and breaker alarms