SiteFlex® SFX00 Outdoor Telecom Enclosure - Small Equipment
The SFX00 is the most compact model of the SiteFlex® remote access cabinets, designed to house small telecom equipment.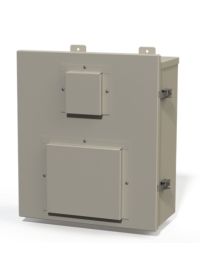 Model: SFX00-1609
Dimension: 19"H x 16"W x 9"D
SiteFlex SFX00 Enclosure Description
Perfect for deployment of small equipment configurations, a fully self-contained site-in-a-box can be achieved by installing your equipment in the available space.
Purcell Systems® offers this cabinet stand-alone, or we can integrate it with a fan/filter/heater environmental package. We can even integrate and test with your electronics equipment installed to minimize headaches.
Our cabinets ship fully protected with custom packaging to eliminate freight damage. They can be empty or fully populated with power, environmental protection, and customer equipment for quick site installation. Simply deliver power and you're on the air.
SiteFlex SFX00 Enclosure Features
19"H x 16"W x 9"D
Plywood telco board for equipment mounting
Front door, pad-lockable
5 year warranty / 1 year thermal system
Meets standards:
SiteFlex SFX00 Enclosure Options
AC receptacle
DC power system options
Pole or wall mount
Thermal Options:

100 cfm fan with integrated thermostat
50 W heater with integrated thermostat
Electrostatic Air Filter